NOTICE:
Our Society is not able to give out grants.
Ajankohtaista
Meidän UUSI sähköpostiosoite - our NEW email address!
info(at)suomitansaniaseura.org
Join our group!


NYT - NOW:
- NEW COMIC: "Karkuteillä" by Finnish-Tanzanian artist couple (more below)
- Swahilin kielen keskustelukerho jatkuu taas keväällä! Tervetuloa kulttuurikeskus Caisaan joka toinen lauantai klo 14-16, kokoushuone 1 (huom muuttunut aika ja huone) harjoittelemaan swahilin kielen taitojasi! Tapaamiset ovat maksuttomia ja kaikille avoimia.Me aloitamme 11.2.2012 ! Karibuni!
Kirjatarjous - Safaripassi. Pohjois Tansania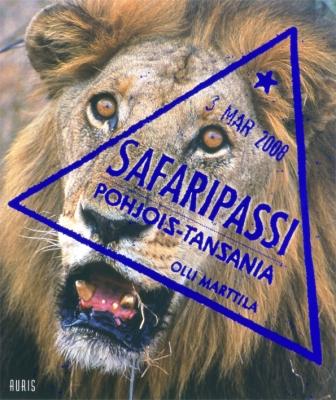 Lisää tietoa tästä

Aims for 2012:
- continue our work to improve cooperation between organizations active in Tanzania,
- expand the membership base of the Association in order to be able to cater for the increasingly diverse Finnish-Tanzanian community,
- continue to promote the cultural cooperation between Finland and Tanzania,
Planned activities for 2012:
- arranging the Tanzania Culture Week "Mtu ni Watu" 2012,
- supporting the AIDS-orphan Rehema,
- producing our Newsletter Taarifa,
- participating in the World Village Festival,
- organizing a summer excursion,
- supporting Tufahamiane Club,
- arranging a common Independence Day Celebration of Finland and Tanzania in December,
Please feel free to contact any of the board members if you want to contribute your time or ideas to the Seura!
2012
Syyskuu - September - Septemba
NEW COMIC: Karkuteillä-albumi
The new comic album "Karkuteillä" by Finnish-Tanzanian artist couple Sanna Hukkanen and Sunday Ngakama is now available for purchase in well equipped bookstores or via post order at irja.aro-heinila(at)artboxirja.net. The story is about a day in the life of an orphan in Mwanza - it's a great piece of work so make sure to get your own before they sell out! Price 20 EUR.
Suomalais-tansanialainen taiteilijapari Sanna Hukkanen ja Sunday Ngakama ovat juuri julkaisseet uuden sarjakuva-albuminsa "Karkuteillä", joka kertoo orpolapsen arjesta Mwanzassa. Albumi on saatavilla hyvin varustetuista kirjakaupoista tai tilaamalla sen s-postiosoitteesta irja.aro-heinila(at)artboxirja.net. Hinta 20 EUR.
Toukokuu - May - Mai
Recruitment workshop for immigrants
Suomi-Tansania seura is organizing a recruitment workshop for immigrants on the 5th of June in Moniheli's office in Helsinki, from 16.30 to 19.30. The event is free of charge and will be held by top-level recruitment specialists as well as professionals with immigrant background who will share their own experiences. The focus of the event is on giving practical advise on how to find and apply for jobs in Finland.
Unfortunately, the number of participants is limited to 30 people fit so if you're interested you need to move quickly! You can register using this link, where you'll also get more information and an updated program as the event approaches: http://stsrecruitment.eventbrite.com/
Also check out the Facebook page here: https://www.facebook.com/events/267135056717484/
Karibuni sana!
Maaliskuu - March - Machi
Brief report on AGM
Suomi-Tansania seura held its Annual General Meeting on 26 March 2012, in which we accepted the Plan of Action for 2012-2013 (attached), elected a new board and elected most of the heads of committee and ongoing projects. The minutes from the meeting will be published shortly. The new board of the Association - as the previous one - consists of a dynamic and diverse mix of members, and the board's functions will be complemented by a number of equally dynamic and diverse committee heads and project coordinators. All in all, we are very excited to start working with the new board and implement our planned projects and ideas! We are also hoping and expecting many volunteers to join our activities! Please find more details concerning the board's members and report under our link "hallitus".
Karibuni!
Tansania-maatapaaminen järjestöille 12.3.
Kepa ja Suomi-Tansania-seura toivottavat kaikki Tansaniassa toimivat järjestöt tervetulleiksi Tansania-maatapaamiseen 12.3. keskustelemaan Tansaniassa tehtävästä työstä sekä tapaamaan toisiaan!
Tilaisuus järjestetään klo. 17.30-19 Kepan dialogi-salissa (Töölöntorinkatu 2) ja tilaisuuden tarkoituksena on keskustella järjestöjä kiinnostavista aiheista koskien Tansaniaa sekä verkostoitua muiden järjestöjen kanssa. Aiheet ovat siis osittain hyvin samanlaisia kuin Suomi-Tansania seuran seminaarissa 9.12., ja tilaisuus tarjoaa hyvän jatkon joulukuun seminaarille.
Tilaisuudessa Kepa Tansanian uusi maajohtaja Masud Hossain kertoo ajankohtaiset kuulumiset Kepan maatoimistosta ja Tansaniasta. Seura pitää myös lyhyen alustuksen, jossa puhumme seuran kehitteillä olevasta Tansania-järjestötietokannasta sekä tansanialaisen "diasporan" potentiaalista järjestötyössä.
Jos kiinnostuit, voit ilmoittautua osoitteessa jäsenpalvelut(at)kepa.fi. Samasta osoitteesta saa myös lisätietoja tapaamisesta.
Karibuni sana!
Kepa ja Suomi-Tansania Seura
Helmikuu - February - Februari
KUTSU: Annual General Meeting / Vuosikokous / Mkutano mkuu
The Annual General Meeting of the Suomi-Tansania seura will be held on the 26th of March 2012, in Kepa's office in Helsinki (Aurinko meeting room, Töölöntorikatu 2). During the AGM we will elect a new Board for the Association for the operational year 2012. If you are interested in working with the Finnish-Tanzanian community, arranging events, taking parts in projects, coming up with new activities, developing existing activities or improving the cooperation between Finland and Tanzania - the Suomi-Tansania seura is a great place to do all this and more. The AGM is open for everyone and any member can run for a place at the Board. But to be active you don't need to be a Board Member - you can also join one of the committees or just list yourself as an activist. Look out for more info on the AGM on the webpage (kaapeli.fi/tansania) and on Facebook in February!
Suomi-Tansania seuran vuosikokous järjestetään 26.3.2012 Kepan järjestötiloissa Helsingissä (Aurinko-kokoushuone, Töölöntorikatu 2). Kokouksessa valitaan seuran uusi hallitus toimintavuodelle 2012. Jos olet kiinnostunut työskentelemään suomalais-tansanialaisen yhteisön parissa, Suomi-Tansania seuran hallituksessa tai aktiivisena jäsenenä voit mm. järjestää tilaisuuksia, osallistua hankkeisiin sekä kehittää seuran toimintaa Suomessa ja Tansaniassa. Vuosikokous on kaikille avoin ja jokainen jäsen on oikeutettu asettumaan ehdolle hallituksen jäseneksi. Mutta seuran toimintaan voi osallistua myös hallitustyön ulkopuolella, liittymällä seuran toimikuntiin tai muuten vain ilmoittautumaan aktiivijäseniksi. Lisätietoja vuosikokouksesta tulee helmikuun aikana kotisivuillemme (kaapeli.fi/tansania) ja Facebookiin!
Mkutano mkuu wa Jumuiya utafanyika tarehe 26 ya mwezi wa Marchi, 2012 kwenye ofisi za Kepa, Helsinki ( ukumbi ni Aurinko meeting room, Töölöntorikatu 2). Lengo kuu la mkutano ni kuchagua viongozi wapya wa Bodi. Je, ungependa kushirikina wafini na watanzania wengine waishio nchini Ufini kwa ajili ya kuandaa matukio mbali mbali, kuandaa au kutoa mawazo mambo mbali mbali, kuendeleza vikundi vilivyopo, au kuendeleza uhusiano baina ya Ufini na Tanzania!? Jumuiya ni moja ya sehemu inayokupa nafasi ya kutoa mchango wako ili kudumisha uhusiano baina ya Tanzania na Ufini na mambo mengine mbali mbali. Wote munakaribishwa kuhudhuria mkutano mkuu wa Bodi wa mwaka 2012. Hauhitaji kuwa mwanachama. Wote mnakaribishwa! Mtu yeyote yule anaweza kuwa mwanachama wa Jumuiya ya Watanzania na Wafini. Ili uweze kupata taarifa zaidi, tafadhali tembelea tuvuti yetu: www.kaapeli.fi/tansania na unaweza kutupata vile vile kwenye Uso Kitabu (Facebook).
Karibuni sana wote!
Tammikuu - January - Januari
Taarifa 2nd special edition is published!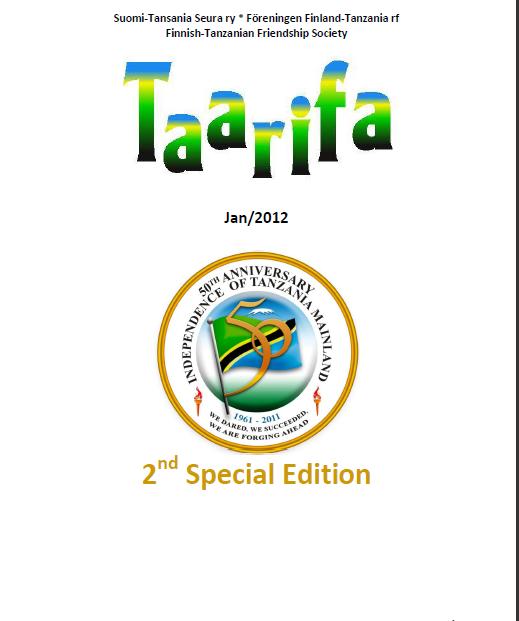 Swahilin kielen keskustelukerho jatkuu taas keväällä!
Tervetuloa kulttuurikeskus Caisaan joka toinen lauantai klo 14-16, kokoushuone 1 (huom muuttunut aika ja huone) harjoittelemaan swahilin kielen taitojasi! Tapaamiset ovat maksuttomia ja kaikille avoimia.
KARIBUNI SANA!
HONGERA MWAKA MPYA !