Patti Smith live dates and events
Live dates now listed until August 10th 2016.
Patti Smith's Eighteen Stations art show opens in New York
Eighteen Stations, opening March 3 at Robert Miller Gallery in New York City, revolves around the world of M Train, Smith's bestselling book released in 2015. M Train chronicles, as Smith describes, "a roadmap to my life," as told from the seats of the cafés and dwellings she has worked from globally. Reflecting the themes and sensibility of the book, Eighteen Stations is a meditation on the act of artistic creation. It features the artist's illustrative photographs that accompany the book's pages, along with works by Smith that speak to art and literature's potential to offer hope and consolation. The artist will be reading from M Train at the Gallery throughout the run of the exhibition.
The exhibition March 3rd – April 16th 2016
Patti Smith in conversation with Omar Kholeif, March 5th at 7 pm.
Patti Smith's interview on Democracy Now! about her memoirs

A great interview with Patti about the memoirs & memories
"Showtime to adapt Patti Smith's memoir Just Kids"
Consequence of Sound (August 2015): "Just Kids, the 2010 National Book Award-winning memoir by punk rock icon Patti Smith, is being adapted into a limited series by Showtime. (--) Calling the memoir "a fascinating portrait of artists coming of age" as well as "an inspiring story of friendship, love, and endurance," Showtime Networks president David Nevins said that the show would explore aspects of the story not touched upon in the book. "A limited series on Showtime will allow us to explore the characters more deeply," Nevins said, "enabling us to develop stories beyond the book and allow a measure of unorthodox presentation."
Patti Smith invites you to join her on the M Train this fall
The Guardian (April 2015): "The follow-up to Just Kids travels with the singer through 'dreams and reality', 'reflections on the writer's craft' and key memories, including her life in Michigan with her late husband, Fred 'Sonic' Smith." (--)
"We then travel, through prose that shifts fluidly between dreams and reality, past and present, across a landscape of creative aspirations and inspirations: from Frida Kahlo's Casa Azul in Mexico, to a meeting of an Arctic explorer's society in Berlin; from the ramshackle seaside bungalow in New York's Far Rockaway that Smith buys just before Hurricane Sandy hits, to the graves of Jean Genet, Sylvia Plath, Arthur Rimbaud, and Yukio Mishima. Woven throughout are reflections on the writer's craft and on artistic creation, alongside signature memories including her life in Michigan with her husband, guitarist Fred 'Sonic' Smith, whose untimely death was an irremediable loss."
"Due out on 6 October, M Train will also contain black-and-white self-portraits taken by the songwriter."
A new biographical book coming up! And about the Golden Globes, "Mercy Is" + Patti Smith "being a bookworm"
Elle (January 2015): A really sweet interview with Patti. "Perhaps the biggest and best surprise on the Golden Globes red carpet earlier this week was legendary musician—yet self-proclaimed "anti-social" woman—Patti Smith. But Smith seemed thrilled to be in the mix, thanks to her nomination for Best Original Song. (Smith's "Mercy Is," the first song she's ever written for a movie, appears in Darren Aronofsky's Noah.) "I'm very proud," Smith told us on the red carpet. "I'd never done that, so for us to have that opportunity and then to be here is wonderful. It's so unexpected. I said yes to doing it because I love the director. He told me he was writing a biblical epic, a version of Noah that would be socially relevant, and he needed a song for Noah, played by Russell Crowe. It should be a lullaby. And Lenny [Kaye, Smith's guitarist] and I have written a lot of lullabies. I love that genre. And I'm very familiar with the text – I have a strong Bible education. And I'm a big fan of Russell Crowe, so it seemed like the job for me."
"Well, you'd learn that I love my dog," she laughed. "That I love my siblings. And that more than anything, I'm a real bookworm. I'm sort of a solitary person." So, book recommendations from Patti Smith? "I could recommend a million," she said, "I would just say read anything by [Roberto] Bolaño. Re-read all the great classics. Read The Scarlet Letter, read Moby-Dick, read [Haruki] Murakami. But Roberto Bolaño's 2666 is the first masterpiece of the 21st century."
"Smith is a writer herself and confirmed that she finished a follow-up to her 2010 book Just Kids only two days ago. "I'm very relieved to be done," she said. "And then we're going to tour California and the West Coast. I also finished a complete collected lyrics from the past 45 years."
Patti Smith reviewed Haruki Murakami's new novel for the NY Times
Brooklyn Vegan (August 2014): "Patti reviewed Japanese author Haruki Murakami's new novel Colorless Tsukuru Tazaki and His Years of Pilgrimage for the NY Times.
Here's an excerpt: "On a first reading, "Colorless Tsukuru Tazaki and His Years of Pilgrimage" seems kin to Murakami's more minimalist novels "Sputnik Sweetheart" or "Norwegian Wood," but it does not really fall into that category. Nor is it written with the energetic vibe of "Pinball, 1973" or in the multidimensional vein of his masterpiece, "The Wind-Up Bird Chronicle." Here and there realism is tinged with the parallel worlds of "1Q84," particularly through dreams. The novel contains a fragility that can be found in "Kafka on the Shore," with its infinite regard for music. Hardly a soul writes of the listening and playing of music with such insight and tenderness. We are given a soundtrack: Liszt's "Le Mal du Pays," from "Years of Pilgrimage." A favored interpreter: Lazar Berman. A favored way to listen: vinyl on a turntable."
"This is a book for both the new and experienced reader. It has a strange casualness, as if it unfolded as Murakami wrote it; at times, it seems like a prequel to a whole other narrative. The feel is uneven, the dialogue somewhat stilted, either by design or flawed in translation. Yet there are moments of epiphany gracefully expressed, especially in regard to how people affect one another. "One heart is not connected to another through harmony alone," Tsukuru comes to understand. "They are, instead, linked deeply through their wounds. Pain linked to pain, fragility to fragility. There is no silence without a cry of grief, no forgiveness without bloodshed, no acceptance without a passage through acute loss." The book reveals another side of Murakami, one not so easy to pin down. Incurably restive, ambiguous and valiantly struggling toward a new level of maturation. A shedding of Murakami skin. It is not "Blonde on Blonde," it is "Blood on the Tracks." Read more
1Updated in April 2016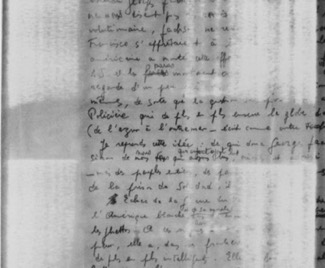 "Genet Manuscript (Mayday Speech)", artwork by Patti Smith, 2003