bibliography
M Train
by Patti Smith
Knopf Publishing, to be published on October 6 2015
Hardcover (272 pages) and audiobook versions will be available.
The publisher: "M Train is a journey through eighteen "stations." It begins in the tiny Greenwich Village café where Smith goes every morning for black coffee, ruminates on the world as it is and the world as it was, and writes in her notebook. We then travel, through prose that shifts fluidly between dreams and reality, past and present, across a landscape of creative aspirations and inspirations: from Frida Kahlo's Casa Azul in Mexico, to a meeting of an Arctic explorer's society in Berlin; from the ramshackle seaside bungalow in New York's Far Rockaway that Smith buys just before Hurricane Sandy hits, to the graves of Genet, Plath, Rimbaud, and Mishima. Woven throughout are reflections on the writer's craft and on artistic creation, alongside signature memories including her life in Michigan with her husband, guitarist Fred Sonic Smith, whose untimely death was an irremediable loss. For it is loss, as well as the consolation we might salvage from it, that lies at the heart of this exquisitely told memoir, one augmented by stunning black-and-white Polaroids taken by Smith herself. M Train is a meditation on endings and on beginnings: a poetic tour de force by one of the most brilliant multiplatform artists at work today."
Patti Smith: Samla Ull / Woolgathering
A beautiful hardcover edition of Smith's Woolgathering, bilingual in Swedish and English by Bakhåll. Order it directly from the publisher, please support a small arts & culture publisher!
Patti Smith's Horses and the Remaking of Rock 'n' Roll
by Mark Paytress
Piatkus Books, 2011
Paperback, 272 pages.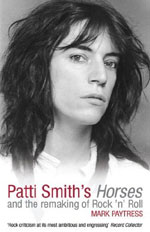 The publisher: "Drawing on sources in music, literature, and art, as well as all-new interviews with those close to the poet laureate of punk Patti Smith, the story of her debut album, Horses, is put into its full context: from the singer's early days to her rapid rise on New York's performance art scene and the key role she played in the emerging art-punk movement at CBGBs. Patti Smith burst onto a vacuous music scene in the mid-1970s with a raw and revolutionary sound—steeped as much in French symbolist poetry as it was in 1960s garage rock—and an indelible, gender-bending stage persona. With the release of Horses, rock music would simply never be the same. This remarkable book demonstrates the influence Smith and her music continue to exert today in the work of luminaries such as Morrissey, Michael Stipe, and PJ Harvey, and is the unforgettable story of a landmark album, the new rock aesthetic that it brought about, and how Patti Smith became the most influential female rock 'n' roller of all time."
Just Kids
by Patti Smith
Ecco, January 19th 2010
Hardcover, 304 pages. A memoir.
The publisher: "In Just Kids, Patti Smith's first book of prose, the legendary American artist offers a never-before-seen glimpse of her remarkable relationship with photographer Robert Mapplethorpe in the epochal days of New York City and the Chelsea Hotel in the late sixties and seventies. An honest and moving story of youth and friendship, Smith brings the same unique, lyrical quality to Just Kids as she has to the rest of her formidable body of work—from her influential 1975 album Horses to her visual art and poetry."
Just Kids is getting great reviews, one of them by The Sunday Times "They first met in 1967: she, an awkward Catholic girl from New Jersey, he an awkward Catholic boy from Queens. Both were 20. Smith, tall, thin and dreamy, had just recovered from an unwanted pregnancy, in which the nurses had been "very cruel and uncaring…[they] left me on a table for several hours, ridiculed me for my beatnik appearance and immoral behaviour, calling me 'Dracula's daughter'  ". Giving the child up for adoption and jacking in her job at a text-book factory, she arrived in New York on a stolen fare with a raincoat, a suitcase and a copy of Baudelaire. Sleeping rough in parks and graveyards among junkies and hustlers, she finally secured a job; a series of chance encounters brought her together with Mapplethorpe, then a student at the Pratt Institute. Within days, they became inseparable, two downtown urchins "irrevocably intertwined, like Paul and Elisabeth, the sister and brother in Cocteau's Les Enfants Terribles"."
"By day she scraped a living at Scribner's, the bookstore, by night she painted, drew and wrote poetry with Mapplethorpe. To supplement their income, she stole half-eaten lobster claws from the restaurant next door for him to spray and sell as jewellery; he, in turn, took to, er, hustling "to make money for us", she says, admitting a few pages later that he sometimes failed to take payment."
HarperCollins has released the book Just Kids also as an audio book with 10 hours / 9 CDs. The book is read by Patti Smith herself.
Also available as a Swedish translation by Brombergs Bokförlag
And a Finnish translation by WSOY
Patti Smith's New York
by Ellen Moynihan, in the MusicPlace series
Roaring Forties Press, February 1st 2009
From the book description: "Providing an intimate portrait of Patti Smith and New York City's bohemian community, this colorful account of the artist and her city offers surprising stories of New York neighborhoods and landmarks in site-specific histories of the places where she lived, worked, and performed."
Patti Smith: Dream of Life
by Patti Smith and Steven Sebring
Rizzoli, August 2008
A hardcover book of 416 pages, related to the documentary film about Patti Smith by the same title. With photographs by Steven Sebring.
Patti Smith's Horses (33 1/3)
by Philip Shaw
Continuum International Publishing Group, 2008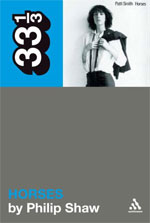 From the book description: "Described as the perfect fusion of poetry and garage band rock and roll (the original concept was "rock and Rimbaud"), Horses belongs as much to the world of literary and cultural criticism as it does to the realm of musicology. While Horses pays homage to the record's origins in the nascent New York punk scene, the book's core lies in a detailed analysis of Patti Smith's lyrics and includes discussions of lyrical preoccupations: love, sex, gender, death, dreams, god, metamorphosis, intoxication, apocalypse and transcendence.
Philip Shaw demonstrates how Horses transformed the possibilities of both poetry and rock music; and how it achieved nothing less than a complete and systematic derangement of the senses."
Patti Smith, Land 250: Patti Smith's photographs and texts for an exhibition at Fondation Cartier pour l'art contemporain, Paris
Patti Smith, Trois: Patti Smith's photographs and texts for an exhibition at Fondation Cartier pour l'art contemporain, Paris
Published in March 2008.
"The Fondation Cartier publishes a catalogue of two hundred fifty photographic works, predominately unpublished polaroids, as well as a set of three books, annotated with the artist's texts. One presents a series of photographs devoted to sculpture, a second centers around the figure of Arthur Rimbaud (poems, drawings and photographs), and the third is a notebook designed by Patti Smith."
The Guardian about these publications and the related exhibition
Patti Smith: American Artist
by Frank Stefanko
Lenny Kaye (foreword), Patti Smith (introduction)
Insight Editions, 2006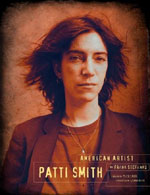 From the book description: "Patti Smith was a favorite photographic subject for Frank Stefanko during his college years. "Patti had jet-black hair and pale blue eyes that could see right through you. When I visited New York, I started photographing Patti, I was captivated by her look…tall, thin, with porcelain skin, sharp features, and those piercing eyes. With me, in terms of portraits, it's always the eyes first, then the rest of the face comes into view." Frank Stefanko grew up near the working class neighborhood of Bruce Springsteen, and was first introduced to the performer in 1978 by their mutual friend Patti Smith.
See the publisher's website for more information

Auguries of Innocence: Poems
By Patti Smith
Ecco, 2005
Also issued in an expanded, paperback edition by Ecco Press in 2008.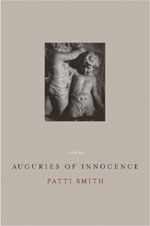 Booklist: "A mystic and a provocateur, a mendicant and a shaman, Smith has always celebrated her love of literature, including that of Blake and Rimbaud. In her first collection of new poems in many years, she presents lithe works unsettling in their spiritual inquiry, archetypal imagery, and dissonant juxtapositions. Smith tells strange tales of pilgrims' quests across landscapes of loss and wonder. The auguries of innocence are not rosy as Smith considers a world forever at war in which children are abused and hungry, themes explored most dramatically in the hauntingly beautiful "Birds of Iraq" and the hard-driving prose poem "Our Jargon Muffles the Drum." Romantic and renegade, Smith moves from anger to empathy, reminding us that there is healing in outcry, solace in language, catharsis in expression. As always, Smith leads us to the sorrowing depths, then dances us back into the light"
Patti Smith interviewed about her book Auguries of Innocence
by Todd Baesen, November 2005
Auguries of Innocence
William Blake (1757–1827)

To see a World in a grain of sand,
And a Heaven in a wild flower,
Hold Infinity in the palm of your hand,
And Eternity in an hour.…

The bat that flits at close of eve 5
Has left the brain that won't believe.
The owl that calls upon the night
Speaks the unbeliever's fright.…

Joy and woe are woven fine,
A clothing for the soul divine; 10
Under every grief and pine
Runs a joy with silken twine.…

Every tear from every eye
Becomes a babe in Eternity.…

The bleat, the bark, bellow, and roar 15
Are waves that beat on Heaven's shore.…

He who doubts from what he sees
Will ne'er believe, do what you please.
If the Sun and Moon should doubt,
They'd immediately go out.… 20

God appears, and God is Light,
To those poor souls who dwell in Night;
But does a Human Form display
To those who dwell in realms of Day.


Strange Messenger: The Work of Patti Smith
by Patti Smith, David Greenberg, John W. Smith
Andy Warhol Museum, 2003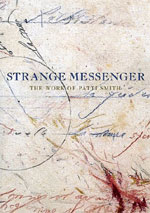 Publisher description: "Impossible to categorize, moving easily between the literary, art, and musical worlds, always unpredictable and impassioned, idiosyncratic musician and artist Patti Smith here presents an impressive body of visual art, mostly works on paper. Bringing together approximately 60 works spanning the past 30 years, Strange Messenger collects early pieces as well as new ones inspired by the September 11, 2001, bombing of the World Trade Center, in which Smith expresses her views about violence, religion, war, and intolerance. This book marks the first occasion that Smith's drawings have been brought together in a single volume, as well as the first publication of most of the included works. Rumpled, tattered, unkempt, hirsute, [Patti] Smith defies the rules of femininity. Soulful, haggard and emaciated yet raffish, swaggering and seductive, she is mad saint, dandy and troubadour, a complex woman alone and outward bound for culture war."

Wild Leaves
by Patti Smith
W. W. Norton & Company, 1999

Patti Smith: Complete lyrics, reflections, and notes for the future
by Patti Smith
Doubleday, 1998
Patti Smith Complete 1975-2006 became available in May 2006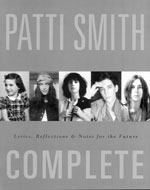 Review by Jaan Uhelszki: "Patti Smith, pioneering punk diva, has always worshipped at the altar of the word, and she opens this book with a quote from her mentor and friend, the late Allen Ginsberg: "The typewriter is holy the poem is holy the voice is holy the hearers are holy the ecstasy is holy." If that is true, then this volume serves as Smith's Book of Common Prayer, containing all the lyrics from her past seven albums, and spanning two and a half decades. She picks out both salient and arcane compositions and annotates them with an unstinting eye for detail and history, allowing us to stand a moment in her flat-heeled karate shoes and see what inspired her to pen these songs. Who among us suspected that 1971's "Redondo Beach," with its grizzly images of loss and suicide, was written about an argument Smith had with her sister?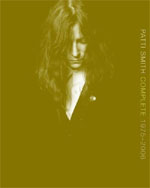 In addition to the thumbnail sketches and the unexpurgated journal entries, Smith has collected more than 150 photographs (some never before published) by the likes of Annie Liebovitz, Robert Mapplethorpe, Michael Stipe, and Linda McCartney. There is one particularly disturbing image of the singer during her painful recovery from a broken back, which she suffered as a result of a stage fall in 1977, proving that there is little that the singer has held back in her effort to communicate who she is to her fans. Why did she go to all the trouble? According to Smith, her fans had been clamoring for her to publish her lyrics for years, but until recently she didn't feel she had a substantial enough body of work. Besides, she claims that she was tired of everyone else deconstructing her songs and publishing what they thought she meant. "And they were always inaccurate," she writes. So, now, Patti Smith is finally able to set the record straight."
Patti Smith interviewed about this book by Salon

Two Times Intro: On the Road With Patti Smith
by Michael Stipe
Little Brown & Co, 1998
Publisher description: "When singer Patti Smith toured in 1995, for the first time in almost 20 years, R.E.M. frontman Michael Stipe tagged along as tour photographer. Two Times Intro is the resulting photo diary--as Stipe calls it--and it's filled with his moody black-and-white prints and Polaroids (taken with an ancient camera by Smith guitarist Oliver Ray) that capture a specific mood of Smith's as she moves through the shifting, impersonal spaces--taxis, concrete backstage areas, empty theaters--of life on tour. Stipe is a long-time Smith fan, as he recalls in an essay in the book: he "bought her first album the day it came out. It was mind-blowing--emotional and imperfect, swirling, B&W." His photographs of Smith and her band mates display the same emotional intensity and incongruity that her music originally stirred in him. The layout, executed completely in black and white with echoes of imperfections like torn Scotch tape, creases, and torn edges seemingly photocopied onto the page, gives readers a sense of watching an ancient black-and-white television--scratchy, static-filled, impenetrable, and mysterious, but also somehow comforting. All of this is evocative of both Smith's music and her lyrics, and in that it is a strange but fitting homage to her. Stipe intersperses throughout the images musings about Smith by the likes of William S. Burroughs, who calls her "a shaman--that is someone in touch with other levels of reality," Sonic Youth's Thurston Moore and Kim Gordon, and long-time friend and fellow musician Lenny Kaye. Ultimately, the book is not a photographic triumph but it should be very compelling to Smith and Stipe fans alike."
Rock Athens interviewed Michael Stipe about the book

The Coral Sea
by Patti Smith
W. W. Norton & Company, 1996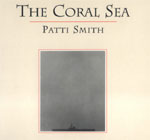 Publisher description: "In linked pieces Patti Smith tells the story of a man on a journey to see the Southern Cross, who is reflecting on his life and fighting the illness that is consuming him. Metaphoric and dreamy, this tale of transformation arises from Smith's knowledge of Mapplethorpe as a young man and as a mature artist, his close relationship with his patron and friend, Sam Wagstaff, and his years surviving AIDS and his ascent into death. Rich in detail, it is filled with references to Mapplethorpe's work and shows the man beneath the persona. Set against photographs by Mapplethorpe, the work emerges as a hymn, a prayer, a fable wishing him Godspeed on his latest journey."

Early Work: 1970-1979
by Patti Smith
W. W. Norton & Company, 1995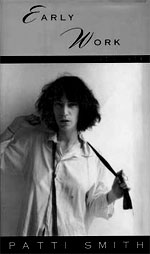 From Library Journal: "An artist wears his work in place of wounds. Here then is a glimpse of the sores of my generation," Smith says in a brief introduction. It is in the context of its decade that readers might best appreciate this volume. The writing from the four books gathered here, which seemed so daring in the 1970s, has lost some of its fury, especially when held up against recent performance artists.
But this also works to the book's advantage: readers are not shocked as easily, and those who were caught up in their own turmoils during the 1970s can look more objectively at what Smith has to offer. Her stream-of-consciousness style permits superficial stabs at mystical vision, but beneath the sex, drugs, and four-letter words, she reveals a romantic sensibility. Sometimes, as in a magnificent three-page prose meditation on God and her father, everything calmly falls into place."
Woolgathering
by Patti Smith
Hanuman Books, 1992

Flowers
by Robert Mapplethorpe, Patti Smith
Bulfinch Pr, 1990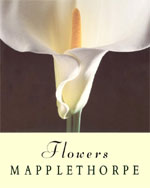 Review by Ann Copeland: "Patti Smith's foreword, "A Final Flower," is a poetic tribute to the late photographer whose recent retrospective exhibition sparked a national legal debate over censorship in the arts. Smith's observation that Mapplethorpe embraced "the flower as the embodiment of all the contradictions reveling within," and in these photographs "found it was as easy to hurl beauty as anything else," enlarges this work in a meaningful way. The 50 color photographs of flowers taken over the past decade "by one who caused a modern shudder" are surprisingly conventional yet uniquely striking in their composition and lighting; Smith attributes their power to Mapplethorpe's "unflinching perception of the color, form and personality of the flower." The book's simple and sublime presentation--each opening a full-page plate facing a blank--serves to remind us that Mapplethorpe was a masterful photographer, not just an iconoclast."

Babel
by Patti Smith
Putnam, 1978

Patti Smith: Gallerie Veith Turske
by Patti Smith
Galerie Veith Turske, 1977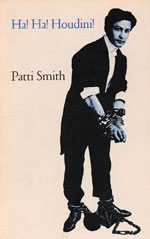 Ha! Ha! Houdini
by Patti Smith
Gotham Book Mart, 1977

Witt
By Patti Smith
Gotham Book Mart & Gallery, 1973

Early morning dream
by Patti Smith
1972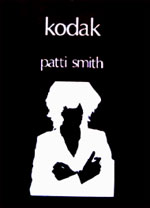 kodak
by Patti Smith
Middle Earth Press, 1972

A Useless Death
by Patti Smith
Gotham Book Mart, 1972

Seventh Heaven
by Patti Smith
Telegraph Books, 1972
"Much of Smith's poetry is in the Jack Kerouac vein of spontaneous bop ephemera. Her streams of lowercase "babel" tend toward self-indulgence -- on paper. See her live. In Central Park three years ago, she came onstage late, apologizing that we'd been waiting for her mom to show up. Patti Smith is a lot funnier than her records would lead you to believe. She flipped through her book "Early Work" for a while, but couldn't find the right page. Somebody shouted out a number. She dutifully looked, then rolled her eyes: "That page is blank. You trying to tell me something?" My friends and I were charmed and apprehensive; we weren't there to listen to poems. She found her page and, while the band waited, gave a purely electrifying rock 'n' roll performance of "Piss Factory," from her first single, recorded in 1974. It details with giddy venom her hatred of the factory grind she experienced at 17. She won't accept this life, she's taking the next train to New York City, she's going to be a big star; her voice rises steadily in pitch, grows faster, angrier; she concludes defiantly, "Oh -- watch me now!" - Greg Villepique / Salon (1999)