live appearances & gigs



September 7th 2018, Hay Festival, Jardín Guerrero, Querétaro, Mexico
Hecatomb. Poetry recital with Patti Smith
"As an artist and friend, Patti will recite her poem Hecatomb (dedicated at the time to Bolaño), commemorating one of the most important literary voices of our time. Accompanied by the guitarist Lenny Kaye."

September 8th 2018, Hay Festival, Teatro de la Ciudad, Querétaro, Mexico
Patti Smith in conversation with Diego Rabasa: "Balancing her career as a writer with one as a singer, she has written a number of poetry books and has recently published the second part of her memoir, entitled M Train. In this conversation with Diego Rabasa, she will talk about her literary career, a facet that will take us beyond music."

September 14th 2018, The Masonic, San Francisco, CA, USA
Pathway to Paris
Patti Smith and Jesse Paris Smith.
"Pathway to Paris, together with 350.org and the United Nations Development Programme (UNDP) today announced a special concert on September 14th at the historic Masonic in San Francisco. Set to cap off the Global Climate Action Summit, the concert will focus on the potential for cities to push for, achieve, and go beyond the climate targets highlighted in the Paris Agreement. Bringing together leading musicians, artists, thinkers, and policymakers, this concert will serve as a call to action, urging the international community to ramp up ambition towards a climate safe future for all."

September 16th 2018, The Theatre at Ace Hotel, Los Angeles, CA, USA
Pathway to Paris
Patti Smith and Jesse Paris Smith.
for more PS gig dates from then and now:

With warm thanks to everyone with Patti Smith gig info!
A very special thanks to Andrew F Wilson.
Please note: If you do not see your hometown or country on this list it is because I don't have any information about it. Please don't e-mail and ask for information on cities/countries you don't find on this list, as this website is updated with new Patti Smith gig information always as soon as I receive it. Thank you.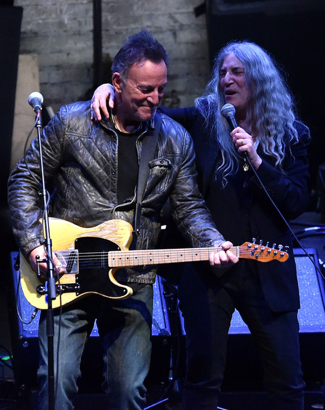 Bruce Springsteen and Patti Smith performing at
"Horses: Patti Smith and Her Band" documentary world premiere
at Tribeca Film Festival on April 23rd 2018. Image by Zimbio.