About DX'ing, QSL's and astronomy
* Here is the virtual QSL-collection.
* Antenna renovation 2005.
* My astrophoto pages.
I started DX'ing in1967 when I was 14.
Since then I have collected about 1870 QSL's from 218 countries.
I am L.Soc.Sc, journalist, 51.
Currently I live in Kangasala, some 20 km East from Tampere which is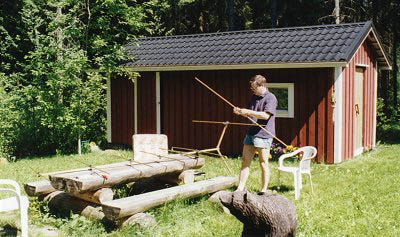 the second big industrial area in Finland. I have done most of my dx'ing here but I strated my hobby in Jyväskylä in Middle-Finland. I have also been several times in the Finnish Arctic during so called "DXpeditions". This means listening to distant radio stations around the world for 1-2 weeks around the clock using an antenna farm of several Beverage antennas.
I have had many receivers during my dx-career. I used 15 years an Icom IC-R71E which I considered as an adequate receiver until I tested AOR AR7030 and Icom IC-R8500.
Now I am using Icom IC-R8500 as my main receiver. It is almost as good as JRC-NRD-receiver, plus it is an excellent VHF-FM receiver and scanner, too.
-This photo shows me building an 8-element VHF-FM Yagi antenna in summer 2001.
-Here is a collection of photos showing antenna renovation in May 2005.

QSL's are historic documents. That is why I have collected here about 250 QSL's from my collection thinking that these may have some "historic" value. This is NOT a collection of my best & hard-to-hear stations; I have simply chosen these QSL's on the basis of my personal "news criteria".

What is QSL? "QSL" is a card or letter confirming that the listener really has heard a certain radio station. The habit comes from radioamateurs who send QSL's to each other to confirm QSO's. DX'ers send reception reports to radio stations. These reports contain information about reception quality and some programme details to prove that the station really was heard.
During my 35 year dx career I have received some 1865 QSL's from 218 countries.
Here is a selection of about 250 QSL's. I want to underline that these are not my most rare & hard to hear stations. Most are short wave and/or medium wave (AM) stations but I have also some 90 VHF/FM-QSL's - some of them are also included.

These pages also tell about my two other hobbies: astronomy and canoeing on Lake Roine and its surroundings.
Jorma Mäntylä (JM)
L.Soc.Sc, journalist
Tanhuanpääntie 25
FIN-36200 KANGASALA
+358-3-3765860, cellular +358-400-333575
E-mail: jmantyla@kaapeli.fi
---
[ Main page | jmantyla@kaapeli.fi ]