patti smith on trampin'
page three
stride of the mind
"Stride of The Mind" is a playful love song, with references to both "Simon says," and St. Simon Stylites, a 5th-century Saint, who spent 42 years perched atop a column in the Syrian desert. He was also the subject of Luis Bunuel's delightful 1965 surrealist film, "Simon Of The Desert". And in light of recent events in Iraq, Patti's throwaway line at the end of the song, "Just 'cause your friends do it, would you do it" serves (like it did in "Last Call"), as a potent reminder for people to think for themselves. It also brings to mind the folly of the American people playing "Follow the Leader," when that leader is someone as incompetent as George W. Bush.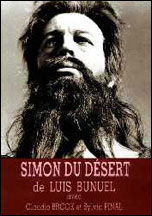 Federico Garcia Lorca recommended that I read "The Golden Legend," a marvelous 13th century hagiography by Jacobus de Voragine. Federico found the chapter on Saint Simon Stylites delightful; it's about a saint who lived aloft a column in the middle of the desert. Federico especially prized this description: "Shit flowed down the column like wax drips from candles." It's an enticing image, isn't it? We have the paradigm of spirituality next to the paradigm of realism. During the Middle Ages, painters and writers of holy things didn't hesitate to note the most crude details, they didn't have the aesthetic of the sexton's little religious pictures, which on the other hand, can be enchanting. That image is etched in my memory.
-LUIS BUNUEL


When did you first see Luis Bunuel's 1965 movie about St. Simon Stylites, "Simon Of The Desert"?
PATTI SMITH: i saw simon of the desert in the early seventies at MOMA, but i haven't seen it since. stride is a love song - two people playfully exchanging wisdom. i wrote the lyrics as they came - some conscious and some unconscious. i wrote the first verse right away. they all seemed to entwine in the end.

Is the line, "Time to travel, Simon said" a direct reference to the end of "Simon Of The Desert," - when Simon time travels and ends up in a New York rock 'n' roll club?
PATTI SMITH: the phrase just came to my mind since the song has a simon sez theme running thru it.
Do you remember when the title first came to you?
PATTI SMITH: the line stride of the mind had been moving thru my mind for quite a while.
Many Sufi poems take the form of love lyrics. Were you inspired by any of them - such as Rumi or Hallaj?
PATTI SMITH: i have always loved their work. the sufi reference was playful.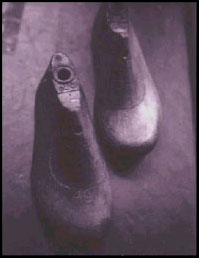 Child's Shoe Molds by Patti Smith
Where did you take the photograph of the child's shoe molds (on pattismith.net next to the lyrics for "Stride"), and how does it relate to "Stride of the Mind"?
PATTI SMITH: i took it in my workspace. the reference is merely visual. oliver gave them to me.