PATTI SMITH: no. i was trying to capture a haiku feel with the lyric clusters.
Was the "Cartwheels" title used in a metaphoric sense, or is Jesse actually proficient at doing cartwheels?
PATTI SMITH: the music suggested that word. no one is turning cartwheels.
In your four night stand at the Warsaw Theater in Brooklyn, you played all the songs from "Trampin' " except for "Cartwheels." Was that simply because you hadn't rehearsed it, or will it be a song like "Distant Fingers," that you seldom will be playing live?
PATTI SMITH: it has a complicated structure and we are still working on the arrangement. we will introduce it into the set soon.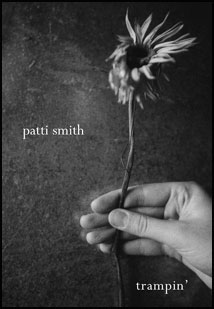 What were the circumstances behind the photo of the daisy that Jesse is holding, that appears on the back cover of the album?
PATTI SMITH: i had been photographing african daisies. some time later i was about to remove them in their dead and dry state. jesse came in my space and i asked her to hold one. a little flash in a few moments and that was all. the light was with us.