patti smith on trampin'
page two
mother rose
"Mother Rose" is a heartfelt ballad that pays tribute to Smith's departed mother, Beverly, who for many years personally answered queries from Patti's many admirers. Smith has wisely given the song a wide universality, by casting all mothers, as "golden moms."

Was the poem "Golden Mother" that you read in Pittsburgh at the Warhol museum (in September of 2002), an early version of "Mother Rose"?
PATTI SMITH: the words in mother rose - at the tail - are an excerpt from a longer poem i wrote for my mothers memorial and i later read it in pittsburgh, but the song was not yet written. i added the poem lines when we recorded it and they fit nicely.
I'm sure people would love to see the complete poem, especially since Beverly wrote to a lot of people who expressed interest in your work.
PATTI SMITH: i could post it (to my website) if i can find it amongst my debris. i will certainly make an effort.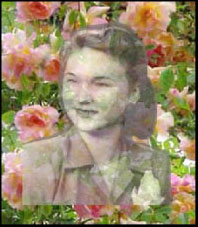 Were roses Beverly's favorite flowers?
PATTI SMITH: my mother was allergic to roses. the flower was used for the double use of the word "rose." my mother loved flowers but she was very allergic.
Did Beverly also enjoy Robert Mapplethorpe's pictures of flowers and roses?
PATTI SMITH: yes, she liked robert very much.
Did you want to make "Mother Rose" a universal song for all Mothers and children?
PATTI SMITH: i wrote the lyrics very quickly not thinking why. it just came. it was all for my mom but i think its a very universal song, like peaceable kingdom.
You've often said your Mom loved doing housework while playing "Rock 'n' Roll Nigger." So was "Easter" her favorite album, or was she diplomatic and say she liked them all equally?
PATTI SMITH: my mom wasn't album oriented. she was song oriented and she liked the up tempo songs: land, gloria, rock n roll nigger and people have the power. she would have liked gandhi and stride of the mind. she was high energy.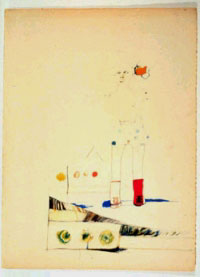 Untitled drawing (circa 1967) by Patti Smith
Can you remember anything about your drawing entitled "To the divine Mother of sorrow and love." Was it related to Beverly in any way?
PATTI SMITH: I'm not sure what drawing you mean. it was probably "sorrow and love." it may have been "jesus christs mother mary." i would have to see the drawing. it actually sounds like an inscription of a drawing done of me by the artist louis del sartre. where did you see it?
(After Patti sees the drawing) - oh, this is an incomplete work of a child tending a garden. it possibly relates to robert louis stevenson's a child's garden of verses, but the title you mentioned is not its title. it remained incomplete and untitled.
Was there ever a conscious moment when you became aware that the mother theme or point of view was going to be so central to "Trampin' "?
PATTI SMITH: the connections between the songs were intuitive and surprised me at the end. the mother theme evolved organically and i was not aware of how much it dominated the album until it was finished.



GOLDEN MOTHER
For Beverly William Smith
golden mother
mother of gold
mother of stories
told and retold
mother of pearl
mother of myth
beheld our worth
and worthlessness
beheld our woes
beheld our bliss
and never failed
a mother's kiss
golden hands
that brushed our hair
golden play
so fair - unfair
golden daughters
golden son
golden leaves
fall one by one
the nursing arms
embrace the breast
our child dreams
and she knew best
the imperfect heart
the imperfect mind
the imperfect soul
still may find
that love that fills the empty bowl
so selflessly to overflow
golden mother
mother of gold
mother of stories
told and retold
felt our tears
heard our sighs
and turned to gold
before our eyes