trampin' 2004
The press release by Columbia Records
Patti Smith's new album, trampin', the artist's ninth and her first for Columbia Records, will be in stores on Tuesday, April 27, 2004.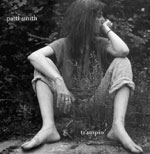 "I am happy and proud to be associated with Columbia Records, which has been home to many artists I admire, including Bob Dylan, Miles Davis, and Glenn Gould," said Patti Smith, "and I am grateful for the creative freedom I was afforded on my first Columbia recording." Smith joined Columbia on October 20, 2002, the 148th anniversary of the birth of the poet Arthur Rimbaud, a longtime source of inspiration for her writing and music. Smith's band, formed in 1996, features Lenny Kaye (guitar) and Jay Dee Daugherty (drums) (both members of the original ensemble that played on Horses, her seminal 1975 album), Tony Shanahan (bass, keyboards) and Oliver Ray (guitar). trampin' is the current group's fourth collection, following Gone Again (1996), Peace and Noise (1997), and Gung Ho (2000). The album includes the debut performance of Smith's daughter, Jesse, who provides a piano accompaniment on the title track, "trampin'," a spiritual that was a staple in the repertoire of the American contralto Marian Anderson.
The new album, which was produced Smith and her band, was recorded at Loho Studio in New York City, Autumn 2003, and mixed by Patrick McCarthy (R.E.M., Patti Smith's Gone Again) at Looking Glass Studios. trampin' features ten original compositions (see track listing following).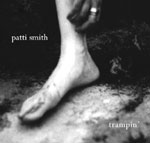 A website, pattismith.net, will be launched by Columbia Records on February 18. The site will feature extensive background material on each of the tracks on trampin', including lyrics, notes, handwritten manuscripts, photographs and practice tapes.
Updated frequently by Smith herself, the site will present exclusive, otherwise unavailable live recordings as well as messages and comments from band members and eulogies to people whom Smith wishes to acknowledge on the anniversaries of their births or deaths."

Track listing
Jubilee
Mother rose
Stride of the mind
Cartwheels
Gandhi
Trespasses
My blakean year
Cash
Peaceable kingdom
Radio baghdad
Trampin'
There's also a French pressing of this album which includes a limited edition 11-track bonus CD live at the Vielles Charrues Festival 2004.

Special
Todd Baesen's exclusive interview with Patti (2004)