an interview with
patti smith on auguries of innocence
page two
TODD BAESEN: The title Auguries of Innocence fits in nicely with how William Blake spoke out against child abuses in his time, such as the use of small children as chimneysweepers. In fact, that's something alluded to in Roman Polanski's beautiful film of Charles Dickens's Oliver Twist. In the movie, the young Oliver Twist is horrified when he is almost sold into indentured servitude as a chimneysweeper.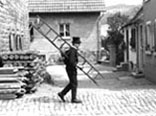 PATTI SMITH: Well, many little lads gave their whole life to the task of cleaning chimneys in England during the 18th century. Can you imagine these little children, who because they were small and very poor, being used as chimney sweeps when they were only 6 or 7 years old? They would be prodded and shoved up hot sooty chimneys, and nobody even cared. Most of them only lived to be nine or ten. While walking the streets of London, William Blake would see these children in their raggedy old coats, half starved and it broke his heart, seeing children in that condition. He couldn't imagine what was in the heads of people who would not only do this, but who would allow it to happen. But there was one day a year when the chimney sweeps had a holiday, and that was on May Day. It was their one shining day, when they would have a big parade. But because their heads were always singed from the burning coals in the chimneys they would put on these white wigs and cover themselves with gold and silver paper and be very festive and joyful, for one day out of the year.
TODD BAESEN: Of course, you speak about today's exploitation of children in several of the book's poems.
PATTI SMITH: Yes, because today, in our society, we're allowing all kinds of things to happen to children, and we should just think with the same clarity, and the same horror and the same innocence of William Blake. He looked at these children and wondered, "Why? Why do we let this happen?" So I chose the title, Auguries of Innocence, not only because of the Blake connection, but also because the theme of childhood is addressed quite a bit in the book. And another reason I chose it was because when I was a teenager, there was a spread in Vogue magazine of Diane Arbus's photographs of children and the article was called "Auguries of Innocence." I cut it out and had it for a long time and I always wondered who this one specific child was. It was a very haunting photograph of a little girl in a nightdress with her black hair blowing in the wind. Recently, I met that little girl grown-up, and it was Diane Arbus's youngest daughter. So that was another reason why I decided to call the book Auguries of Innocence.
TODD BAESEN: And the poem She Lay in a Stream Dreaming of August Sanders references Diane Arbus.
PATTI SMITH: Yes, that was written with thoughts of Diane Arbus. It addresses the dark end of Diane Arbus, who despite the gifts that she had within her, and having children, found a place in her own heart so dark that she took her own life. I recently saw a great show of her work (at the Metropolitan Museum), called Revelations and it is truly that.
TODD BAESEN: What was the inspiration for the poem Fourteen?
PATTI SMITH: I writ that after I read about the Elizabeth Smart kidnapping. She was just a nice little girl who was stolen from her house in Utah by these people and defiled in many ways. Luckily they didn't kill her and she was returned to her family. But it's just one more example of the way our children are abused and misused and exploited.
TODD BAESEN: The first poem in the book is titled The Lovecrafter, but it's actually more about Johnny Appleseed than H. P. Lovecraft.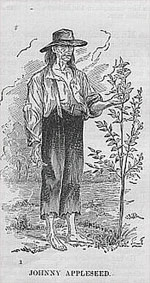 PATTI SMITH: Well, Johnny Appleseed is one of my favorite people in American history. He was a very simple man whose father fought in the American Revolution and his mother died when he was only about two years old. He was a very humble man and he's best known for loving apples and apple trees and wanting to share that with everyone. As a boy he worked on an apple orchard and he would keep apple seeds in a little leather bag, and go out for walks and plant the seeds. Then when he got a little older he'd go and look, and lo and behold, there would be apple trees. He decided that this was what he was going to do in life, and that's what he did. He walked across America with a little leather sack and simply planted apple trees. And the trees grew and people had something to eat. Everyone always loved him. The animals loved him, the Indians loved him and he just trod through the American landscape until his death. I always liked the story of Johnny Appleseed because it illustrates how little seeds become such great things. I was re-introduced to Johnny Appleseed through Ralph Nader, because Ralph has a great affection for Johnny Appleseed. So I was studying Johnny Appleseed and decided to write the poem as a sort of salute to Ralph. I was actually on a plane going to a political rally for Ralph Nader, and as I was sitting on the plane I looked over and saw a vision of Johnny Appleseed, just floating about in the plane. I don't know what he was doing on Northwest airlines, but I thought "well I saw Johnny Appleseed on the plane, it's best to write about it. So I wrote this poem on the plane. But in the center of it, I wound up also reflecting a bit on H. P. Lovecraft, because there is something of him in Johnny Appleseed, as well. Something of his generous obscurity. So Ralph Nader, Johnny Appleseed and H. P. Lovecraft all find there way into this little poem. I'd be happy to go to the prom with any of them.
TODD BAESEN: I found the The Lovecrafter to be especially effective because it has a kind of universal theme that can be very moving, even if you don't fully understand the words of the poem.
PATTI SMITH: I think it's also the voice in the poem. When I was a child I loved Robert Louis Stevenson, and I think some of the poems in the book reflect that. It's a voice that will universally touch some youthful, childlike chord within us. So perhaps it's the voice.
TODD BAESEN: That also applies to The Long Road, where you open the poem with a quote from Robert Louis Stevenson's Garden Days, (Chapter 8):
Here we had best on tip-toe tread
While I for safety march ahead
For this is that enchanted ground
Where all who loiter slumber sound
PATTI SMITH: Well, The Long Road is sort of the main poem in the book, and I wrote it for my brother and sister, so it has a certain aspect of Stevenson's rhythms from A Child's Garden of Verses.
TODD BAESEN: Actually, I was quite surprised when I found out you liked H. P. Lovecraft so much, because he was always one of my favorite horror story writers. I really got into his Cthulhu Mythos stories in the seventies.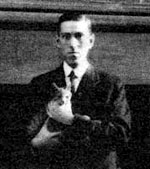 PATTI SMITH: So did I, and I just got into him again. Actually I was into him in the sixties. It was just one of those things where I used him up in the sixties, then I just happened to find an old Arkham House book of his and I was looking at it and I tried to remember his stories. I was so immersed in him at one time in my life, but I couldn't remember one damn thing I had read! So I thought I better re-read him, because sometimes for me, I get so immersed in what I'm reading that I don't even remember what I've read. So lately I've been re-reading him and really enjoying his writing and his whole thing.
TODD BAESEN: If it's all right with you, I'd like to insert some of the souvenances you wrote for the relevant people we are talking about, so here is your souvenance for H. P. Lovecraft, which you happened to write while you were on tour here in northern California:
Howard Phillips Lovecraft
August 20, 1891 - March 15, 1937
There are those whom we seek and there are those whom we find. Occasionally we find, however fractured the relativity, one we recognize as kin. In doing so, certain curious aspects of character recede and we happily magnify the common ground.
Thus, I have found a most unlikely chum in the writer H. P. Lovecraft. A study of his process has led me through a labyrinth of scholarly pulp horror toward the city of Providence, where I am preparing to fall by for future application. I look forward to visiting his resting place in Swan Point Cemetery as well as streets with names such as Benefit and Angell that felt the beat of his nocturnal walks. His disdain for modern times was so acute he preferred to live at night, navigating the areas of his beloved city that boasted eighteenth century architecture.
What a weird life. I know so much about him but somehow do not wish to tell. I can say that he spooned enormous amounts of sugar into his endless cups of coffee, wrote longhand and detested the rise of technology and the plummeting of what he distinguished as the gentleman's code.
He was the noble eavesdropper who pressed his ear to the ancient balustrade. He heard the whispering of the eaves. He perceived the triumphant gestures and the unavailing supplications of man in the branches of mystical trees. No terrifying dimension was barred from him. Yet, no holy order was invoked to deliver him. He eavesdropped on the eighteenth century. He eavesdropped on himself and so created Randolph Carter who eavesdropped on the cosmos. And each claimed the other in a swirling vortex of abomination.
He was born in Providence. He died in Providence. "I am Providence" was his credo. When I visit Providence I am sure to find him, as the moon rises, in the red-brick and wooden-frame Colonial houses, in the vale flanked by small hills and in the moody New England fields. Perhaps I will chance upon his gangly spectre, and he, being a gentleman, will stand me for a cup of coffee.