land 1975-2002
The excerpts from Philly.com (December 21st 2001): "In March, Smith will release a two-CD, career-spanning collection that will include live cuts, studio outtakes, and several new songs. "It's sort of a greatest-hits collection, even though I only had one hit," she says, referring to 1978's "Because the Night," which she cowrote with Bruce Springsteen. It will be her last release for Arista Records, for which she has recorded for 25 years. "I'm an Al Kaline type," she says, referring to the baseball Hall of Famer who spent his entire career with the Detroit Tigers. "I get on one team, and that's the team I like to have." Smith is not sure whom she will sign with next. She has a batch of new songs ready to record with her band, featuring guitarists Lenny Kaye and boyfriend Oliver Ray."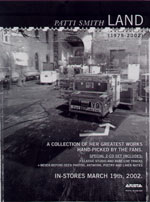 From the Land press release

"Arista Records will release a special 2 CD retrospective of Patti Smith's 27 year career as a Rock and Roll artist on March 19, 2002, entitled Patti Smith Land 1975-2002.
The first CD will contain songs from all eight of Patti Smith's Arista albums. Included will be such classic songs as "Because The Night" (co-written with Bruce Springsteen), "People Have The Power," "Birdland," "Dancing Barefoot," "Rock 'N' Roll Nigger," "Summer Cannibals," "Gloria" and many others. The final selection of tracks was made using song lists submitted by listeners via the internet. Patti Smith noted, "I have always cherished the energy and input of audiences during our live performances, and I thought it would be more interesting if this CD were to reflect the actual ideas of the people who listen to our music. So I invited their input, by asking people to send a list of their own favorite songs to me."
Track listing

Disc 1
Song / Album
Dancing Barefoot / Wave (-79)
Babelogue / Easter (-78)
Rock 'N' Roll Nigger / Easter (-78)
Gloria / Horses (-75)
Pissing In A River / Radio Ethiopia (-76)
Free Money / Horses (-75)
People Have The Power / Dream Of Life (-88)
Because The Night / Easter (-78)
Ghost Dance / Easter (-78)
Ain't It Strange / Radio Ethiopia (-76)
Glitter In Their Eyes / Gung Ho (-00)
1959 / Peace And Noise (-97)
Beneath The Southern Cross / Gone Again (-96)
Summer Cannibals / Gone Again (-96)
Ask The Angels / Radio Ethiopia (-76)
Frederick / Wave (-79)
When Doves Cry * *Unreleased studio track, recorded 2001
Disc 2
All songs previously unreleased
Piss Factory (Track, -74)
Redondo Beach (Demo, -75)
Distance Fingers (Demo, -75)
25th Floor (Live - Eugene, Oregon -78)
Wander I Go (Track, -96)
Come Back Little Sheba (Studio Outtake, -96)
Dead City (Live - Denmark, -01)
Spell (Live - Portland, Oregon, -01)
Wing (Live - Paris, -01)
Boy Cried Wolf (Live - Paris, -01)
Birdland (Live - Los Angeles, CA, -01)
Higher Learning - Contemplation (Unreleased studio track, -01)
Notes To The Future (Live St. Mark's Church, New York, -02)
Tomorrow (Live -Philadelphia, -78, hidden track)

The release of the album will coincide with a national tour featuring band members Lenny Kaye, Oliver Ray, Tony Shanahan, and Jay Dee Daugherty.

Review by Rolling Stone
"This two-record set distills Patti Smith's rock & roll life into seventeen classic tracks, fourteen studio and live rarities and two basic truths: There is no revolution without toil, and no euphoria without communion."
From New Yorker (2002-03-11)
"The first CD contains sixteen of her greatest hits, although only "Because the Night" was actually a hit in commercial terms. The selection was compiled by polling her fans, and includes songs from each of her eight albums. (Curiously, "Land," which is a song suite on "Horses," isn't included.) The final track, a sensual cover of Prince's "When Doves Cry," was recorded for this occasion and is being released as a single for the radio. The second CD is an official bootleg of sorts, with live tracks and demo versions of songs and outtakes. The first cut, the autobiographical prose poem "Piss Factory," was made in 1974 for a private label, before Smith had a record contract. The piano overpowered her voice on the original 45, but it has been remixed here to better effect. Since Smith and the band have always been an improvisational group, much of the interest in the compilation derives from the live performances."